Why Should a Filipina TRUST You?
by Bobpublished on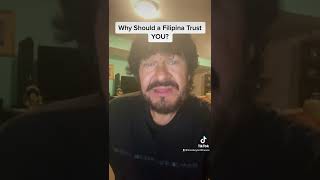 ---
I have much to say about trust in a multiple part series here on Love Beyond The Sea. We often ring our hands over whether or not a Filipina can be trusted, but we should remember we are just as far away and an unkown commodity to her too. There are certain characterizations of foreigners that exist also.
If you are single, consider going where you're wanted to find love beyond the sea. Here is where I found mine-Christian Filipina https://www.christianfilipina.com/?affid=1096 
Please Subscribe, click the Notification Bell and remember to click on ADD to complete the process for notifications. Thank you!